Lisburn shopping schemes refused by planners to get PAC hearing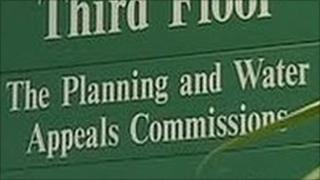 Two shopping schemes in Lisburn which were refused planning permission are to be the subject of a joint hearing at the Planning Appeals Commission (PAC).
Castle Glen Development Company was refused permission for its scheme on land east of the McKinstry Road.
Wildrose (Magheralave) wants to develop an 8,000 sq metre supermarket on land off the Magheralave Road.
The cases will be heard together as they are both for retail development on the north side of Lisburn.
The PAC acts as a "court of appeal" for development proposals which have been rejected by the Planning Service.
The hearing is scheduled for 9 January next year with a pre-hearing meeting on 12 September 2011.
Wildrose (Magheralave) is controlled by members of the Cultra-based Eastwood family.
The Eastwoods used to be best known as bookmakers, a business they sold to Ladbrokes for £135m in 2008.
The focus of their business interests is now commercial property and their companies own and manage prime retail sites across the UK, including the Tower Centre in Ballymena.
An Eastwood company is part of the Castlebawn consortium which is planning a major redevelopment of Newtownards town centre.
It is understood that Asda was the likely tenant for the Lisburn development.
Castle Glen Development Company is owned by Frank Boyd, one the wealthiest developers in Ireland.
He co-owns the William Ewart firm and also owns Killultagh Estates. His properties include the Connswater shopping centre in east Belfast.
His Lisburn plan is for a major supermarket, other shops and a petrol station.