DUP: Halt GAA bag-packing fund-raising at tills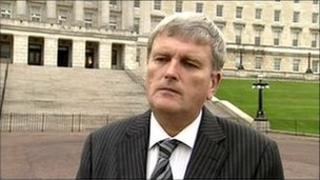 DUP MLA Jim Wells has called for a halt to GAA clubs raising funds by packing shoppers' bags in south Down supermarkets.
Mr Wells said the GAA was a wealthy body which deprived "genuine charities" of collection slots in stores.
However, the GAA Ulster Council said clubs and counties were responsible for their own fund-raising.
"It's a matter for individual clubs and counties. We do not get involved as a provincial body," a spokesman said.
Mr Wells said some members of the unionist community had complained to him when they discovered the bag-packers were collecting for a GAA club.
He said labels on the collectors' buckets said they were Bryansford Ladies "when in fact they were Bryansford Ladies GAA team".
"It should be genuine charities that need the money, not an organisation that is rolling in money," he said.
"All collectors should have badges or arm-bands which clearly identify the organisation they represent."
Mr Wells said on BBC Radio's Talkback that unionists would be not comfortable donating to an organisation that had named a trophy after IRA hunger-striker Bobby Sands.
However, Sinn Fein MLA Barry McElduff denied that the GAA was a political body but was a sporting organisation.
He said the GAA did sterling community work and actively kept young people from engaging in anti-social behaviour.
"The GAA is a community development role model. I'm sure clubs would be happy to wait their turn for collection slot at stores," he said.
"Part of the difficulty for me is an undercurrent of criticism of the GAA. Jim Wells does need to look further than the end of his nose.
"It's a false debate. It's silly season journalism."
Alliance MLA Anna Lo MLA said she was annoyed at Mr Wells' comments which she described as "very churlish and negative".
"The GAA is a sporting organisation that does much work in the community and has every right to raise money at supermarkets like other sporting organisations and charities do, " the Alliance culture, arts and leisure spokesperson said.
"I think that Jim should be asking himself what comments like this do as regards community relations here.
"We need to build the shared future that Northern Ireland deserves and these remarks are not in any way helpful."