'Nothing untoward' found in Newry alert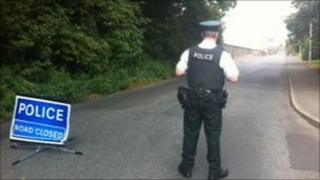 A security alert in Newry, the second in the city in two days, has ended.
Police were investigating a suspicious object in the grounds of St Mary's Church, but said "nothing untoward" was found.
A number of homes were evacuated on Priory Crescent and Chapel Street. Chapel Street was closed to traffic.
On Monday, two masked men left a bomb in a Santander bank branch on the city's Margaret Square. Police said the device could have killed.
The men entered the bank, dropped a bag and issued a 45-minute warning at 09:45 BST on Monday.
Hill Street was closed between the cathedral and the town hall and dozens of businesses were disrupted.
Appealing for information on the Newry bomb, the area commander for Newry and Mourne, Chief Inspector Davy Beck, said: "This was a viable device which was capable of causing death, serious injury and substantial damage to the area.
"I would place on record my gratitude to the army technical officer and his team for their actions which clearly prevented the detonation of this device."