DoE: Northern Ireland ecycling rates increasing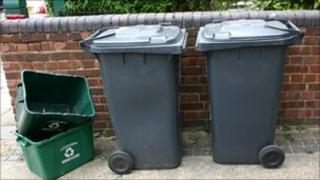 The Department of the Environment has refuted reports that recycling rates in NI are set to stall.
The Royal Institution of Chartered Surveyors (RICS) said the rate of increase in waste recycling has slowed from 6% in 2004/05 to 1.5% in 2009/10.
However, the DoE said household recycling rates were increasing.
"The most recent quarter, January to March, shows household rates have risen by 3.3% compared to the same quarter last year," said a spokesperson.
"The overall annual figures for household recycling have increased year on year to date."
"This year's figures, which will not be confirmed for a few months yet, are likely to show that that increase is continuing of around 2% over last year's figures."
The RICS had said a major new education programme was needed to make sure recycling continued to grow.
"Without it, growth in the proportion of waste that we recycle will flat-line, and Northern Ireland could incur significant EU fines," said Michael Doran.
Targets
Mr Doran said that significant delays in the appointment of providers of new waste facilities in the three waste management council groups - arc21, North West Waste Management Group, and Southern Waste Management Partnership (SWaMP) - were also an impediment to recycling growth.
"There needs to be a large education and communication programme that communicates both the need for and the benefits of recycling," he said.
"Some people might argue that we can't afford such a programme at present with the pressures on public spending, but the reality is that we can't afford not to - not least due to the potential fines that we would incur if we don't meet the EU targets."
Earlier in August, Environment Minister Alex Attwood said he wanted to focus on areas of waste management where the most impact could be achieved.
Among the targets he proposed for 2020 were, increasing recycling and the re-use of household, construction and industrial waste to 60% and upwards, and delivery of a major waste infrastructure programme which will divert over 1.5m tonnes of residual waste from landfill.