Red Arrows may cancel Portrush air show display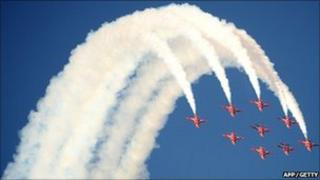 The RAF Red Arrows appearance at the Portrush air show may be cancelled after a pilot died in a crash in Dorset.
Flt Lt Jon Egging, 33, from Rutland, was killed when his Hawk T1 aircraft crashed following a display at the Bournemouth Air Festival on Saturday.
The 10th anniversary of the international air show at Portrush will take place on 3 and 4 September.
Air show organiser Jeff Brownhut said they "may lose one of the attractions".
"There is no information coming up, but we still have one of the biggest shows we will have ever done," he said.
The Red Arrows have only missed one appearance since the air show began 20 years ago in Londonderry.
The RAF has said a full service inquiry into the details of the crash has been initiated.
A spokeswoman said it was "hard to tell" how long the inquiry would be as it would be very "thorough".
When asked about whether it was likely flying would resume before the Portrush air show she said: "Flying operations are suspended and we won't fly again until we know it is safe."
A Ministry of Defence source hinted their appearance at Portrush looked unlikely.
"No decision has been taken, however, these don't happen overnight," he said.
A statement from Coleraine Borough Council said their attendance was uncertain.
"The council supports the team and the current investigation with the understanding that information may not be available on their attendance to the air show right up until the day before the weekend event," it said.
"Safety is paramount for all pilots and those who attend the show."