McDowell launches G-Mac child medical research charity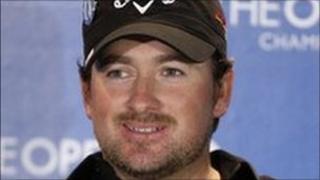 Ryder Cup hero and former US Open champion Graeme McDowell has launched a foundation to help children's medical research.
The G-Mac Foundation, launched in New York, is intended to support research in Northern Ireland, the Republic of Ireland and the United States.
Mr McDowell also plans to give children a holiday of a lifetime in Florida.
He has been a long-term supporter of multiple sclerosis charities, a condition his mother suffers from.
"I'm delighted to now have my own G-Mac Foundation to channel any funds I raise," he said.
"There are so many good, deserving causes out there, but I think you have to focus on a few to make a meaningful difference."
He said it was his way of "giving something back".
"I've got some short-term goals and some longer-term ones, but we're in the early stages just now and I'm excited about it," he said.