Fire efforts hampered by cylinders at blaze in Coalisland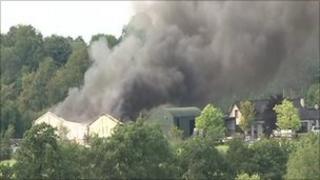 The Fire and Rescue Service said a fire near Coalisland, County Tyrone, had the potential to cause serious injury after a number of cylinders were found on the site.
A number of people had to leave their homes while fire crews tackled the large blaze on the Bush Road.
The fire started accidentally in a van on which welding work was being carried out, but it quickly spread.
No-one was injured. The fire has now been brought under control.
Group Commander Lloyd Crawford said they received a call at 17:10 BST on Tuesday.
"When we arrived there what we found was that the fire was involving two large sheds and 10 vintage vehicles, that's what we faced when we arrived," he said.
"We had a running fuel fire as well, so we had quite difficult circumstances for our firefighters when we arrived on the scene."
Difficult
He said the fire took two hours to bring under control.
"The major difficulty with the incident was that we discovered some cylinders within the fire," he said.
"Our initial thought was that it was an acetylene cylinder. These require to cool-off for a period of 24 hours once the cooling process begins.
"It took us some time to confirm that the cylinders involved were actually propane, oxygen and CO2 and that made our job much easier."
"We actually had a cylinder which did explode whilst we were at the scene.
"The fact that it did not cause any injuries and there were no further explosions, so in terms of the potential for injury, certainly it was considered a major incident."
Six appliances and a water tanker were used to bring the blaze under control.
"We had appliances attending from as far as Cookstown, Pomeroy, Portadown, Dungannon and Armagh," said Mr Crawford.