Man questioned on witness threats over Lagmore shooting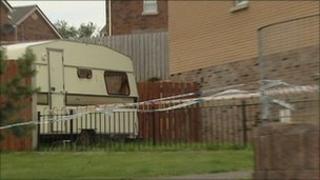 A man has been arrested by detectives investigating the attempted murder of a man in Lagmore on the outskirts of west Belfast earlier this month.
The case is thought to be linked to a dispute in the Traveller community. A man was shot in the ankle at his caravan at Hazel View.
The 24-year-old arrested on Tuesday is being questioned on suspicion of intimidating witnesses.
A 14-year-old boy and three men have been charged over the shooting.
Two shots were fired into the victim's caravan.
One is believed to have been aimed at head height, with that bullet recovered from a wardrobe door.
A second shot hit the victim in the ankle.