Board-walk from Divis to Black Mountain officially opens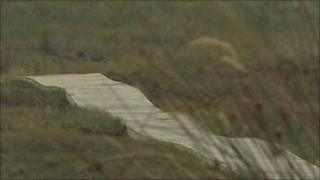 A 300m-long board-walk from Divis to Black Mountain will be officially opened on Wednesday.
It has taken three years to construct and was built by offenders as part of their community service.
The Probation Board for Northern Ireland teamed up with the National Trust to complete the project.
Paul Doran from the Probation Board said this kind of work benefited both organisations and offenders.
"We believe that this project benefits the National Trust, in that it provides labour to keep the very good facility here going, but it also helps the offenders to keep out of trouble," he said.
"Research tells us that three out of four offenders who complete the community service order aren't reconvicted within two years."
Mr Doran said the Probation Board had over 300 partnerships with organisations throughout Northern Ireland and supplied over 160,000 hours of community service each year.
"We are always looking for new projects and if people want to contact us, to suggest new community service partnerships, we're very keen to hear from them," he added.