Michael McLean dies after falling and hitting head in Nicaragua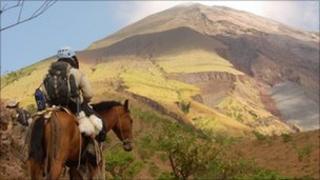 Tributes have been paid to Michael McLean, 26, from west Belfast, who died after a fall while on holiday in Central America.
Mr McLean, from Fruithill Park, a trainee teacher and keen GAA coach, was fatally injured in Nicaragua on Sunday.
His family said he was "a much loved son, brother, uncle and friend to many".
His brother and sister have travelled to Nicaragua to bring home his body.
Mr McLean, who recently graduated from Hope University in Liverpool and planned to teach geography, had gone to New York to meet up with his younger brother, Conor.
The pair then travelled to Nicaragua for a walking holiday, where the accident happened.
They were on a guided walk close to a volcano when Michael fell and suffered a fatal head injury. He died moments later, his brother at his side.
Antrim Gaelic Athletic Association county press officer and Michael's club mate in St Agnes GAA Brendan Mulgrew said he would be "sadly missed" by all who knew him.
Mr Mulgrew said he was "a gentleman and a true gael".
"He typified the GAA player. He played as a child and as an adult. He was club secretary. He had begun to coach the younger players and was putting back in what he got out of it, himself," Mr Mulgrew said.
"It is very hard to talk about him in the past tense."
He said he had heard that Michael fell and went unconscious. He came around momentarily and his brother, Conor, was with him.
Interviewed on the Nolan Show, Declan McClarnon from St Agnes' GAA Club said Michael was "a lovely big gentleman".
'Generous spirit'
Mr McLarnon, is a PE teacher at St Patrick's College Bearnageeha in north Belfast, and said Michael had coached a cross-community team of hurling and shinty players prior to starting his teaching course in Liverpool.
"Nobody would have a bad word to say against him and he wouldn't have a bad word to say against them as well," he said.
"That was a testament to him.
"His whole life was ahead of him. He had so much to give, so much to offer.
"He had a great love of coaching children.
"In teaching, I think he found his calling and vocation. His family are so proud of him and we are proud of him as his friends. We were really really sad to hear that tragic news."
Another friend from the St Agnes' club, Joe Compston, said: "He was a great guy. The first thing you noticed was his smile. He livened up everybody around him.
"It is going to be a really tragic loss to the whole community. We are finding this very hard to take in."
Mr Compston said the brothers were best friends.
Camilla Cole, a senior lecturer at Hope University in Liverpool said Michael would be remembered for his "cheerful disposition and generous spirit".
She said Michael was an "extraordinary young man" and a "real loss to the teaching community".
An autopsy into Michael McLean's death has taken place in Nicaragua.