And another thing... policing the PSNI Bangor page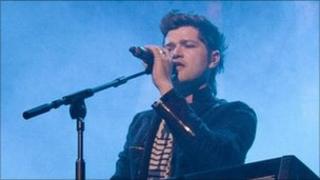 The trials of policing a major outdoor concert, shepherding about 60,000 teenagers and managing rising temperatures and traffic jams, is nothing to answering queries on the PSNI Bangor Facebook site.
The police officers who got that job, were reaching the end of their tether.
The tone, in the end, was clipped. What time was Eminem on and was Rihanna going to make a surprise appearance.
Below is the list of answers posted to an endless stream of questions.
Can I clear up a few issues, wrote the PSNI.
1 Yes Eminem is coming to Ward Park today
2 No I don't know what exact time he will be on at
3 No Rhianna is not making a surprise performance
4 The roads will not close until 22:15hrs
5 No you can't bring drink and food into the venue
6 No there are no cheap tickets being released for sale
PSNI Bangor
One comment left on the page feels for the weary officers:
"I feel the poor PSNI are doing work out of their remit these last few days," she writes.
"You wouldn't phone up the station and ask them generally when such and such an act is coming on at a concert.
"They'd put the phone down on you for wasting police time. No wonder with the tetchy status... The late night must be catching up on them :-["