Student fined for urinating on Derry peace bridge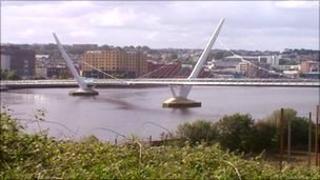 A student who urinated on Londonderry's peace bridge last month after an all night drinking binge has been fined £100.
Aaron McGeogh, 19, from Glenabbey Square, pleaded guilty to committing the offence of indecent behaviour on the bridge on 29 July.
Police were contacted about a crowd of young men "drinking and urinating" on the bridge at about 10:20 BST.
A member of the public identified McGeogh as one of the group to police.
The defendant was arrested and apologised for his behaviour, which happened at about 10:20 BST.
Defence solicitor Maoliosa Barr said McGeogh could not have picked a worse place to urinate in public.
"Obviously the citizens of Derry are very proud of the peace bridge and quite rightly so and it is no surprise that members of the public reported this to the police.
"He stopped at the bench on the bridge to finish his drink and got caught short and urinated," he said.