Newry by-pass van bomb: two men released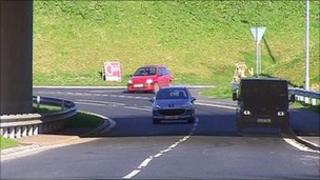 Two men arrested in connection with a bomb left under the Newry by-pass in April have been released.
Hundreds of motorists drove past the 500lb bomb, which was found in a van parked under a flyover.
The men, aged 35 and 36, were arrested in Belfast city centre on Tuesday. They were released on Wednesday without charge.
Police carried out a review into why motorists were allowed to drive past the van containing the bomb.
They said a cordon had been removed by motorists.
Army bomb experts carried out several controlled explosions on the vehicle before it was removed.