30,000 GCSE pupils get results in Northern Ireland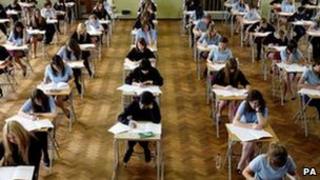 GCSE results have been revealed and while overall the percentage of passes in Northern Ireland remains the same, higher grades have slipped.
In 2010, 75.3% of students won between an A* and a C grade, this year that has dropped by 0.5%.
However across England, Wales and NI, performance has improved across all levels of grades.
Girls continue to do better than boys and the difference is particularly pronounced at higher grades.
From next year, pupils in England will revert to the old system of two years' study followed by exams.
It follows criticism from Education Secretary Michael Gove about the number of pupils re-sitting modules over and over again until they get a good grade.
Return to exams
In Northern Ireland, after concerns about pupils getting too much help on their course work, the rules were tightened.
Pupils collecting their results on Thursday will be the first to have done their practical work under controlled, exam-type conditions.
A change to the modular system of exams in England could also affect future GCSE pupils.
From next year, English exam boards will stop offering courses divided into modules and instead will go back to the old system of two years study, culminating in exams.
That would affect local students who sit English exams and the Department of Education in Northern Ireland is considering whether to end modular exams in Northern Ireland too.
A consultation paper will be issued shortly.
The Department of Education and Learning is offering advice to students who have just received their results.