Dissidents suspected as informant injured in Navan bomb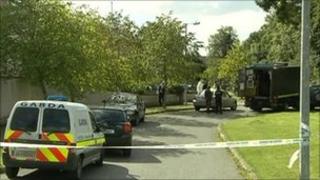 A former car thief who gave information to Irish police about stolen vehicles used to transport Real IRA bombs has been the target of a pipe bomb attack.
Paddy Dixon, who is 48, suffered minor injuries when the bomb went off as he opened his front door in Navan, County Meath, on Wednesday morning.
It is thought dissident republicans may have been behind the attack.
The victim, who is from Blanchardstown, west Dublin, is under armed guard in hospital in Drogheda.
The attack happened shortly before 08:00 BST.
It is understood Mr Dixon spotted the device just before it exploded and was able to back away from the full force of the blast.
Mr Dixon had never entered the Witness Protection Programme.
He is believed to have been living quite openly in Navan for the last number of years.