Job fears as Diageo sales fall by 3% in Ireland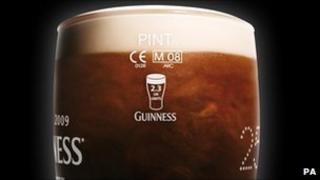 The global drinks company who own Guinness and Bushmills have said they cannot rule out job losses in Ireland.
It follows news that sales in Northern Ireland and the Republic fell by 3% this year.
The latest company accounts show an overall increase of £21m in global profits this year, making a total of more than £2bn in pre-tax profit.
But sales across Europe have fallen, and the company are beginning to depend on African and South American markets.
Sales of Guinness have increased in the developing world by 10%, although they have fallen across the whole island of Ireland by 6%.
Ireland's economic woes are playing out in the drinks market, as sales of alcohol fell across the board.
Despite this year's iconic shots of President Obama taking a swig of the black stuff, Guinness has taken the biggest hit.
Andrew Morgan, European president of Diageo said that is because sales of Guinness are very much dependant on the pub trade.
People do not buy Guinness to drink at home, it is a propping up the bar kind of drink. As people are spending less in the pub, Diageo have seen sales fall.
It is a brighter picture for Bushmills whiskey. Their global sales were up 9%. According to the annual report that was mainly because of a 29% net sales increase in Russia and Eastern Europe.
Diageo employ 1,700 people in Dublin, Dundalk and Kilkenny and in their Bushmills plant in County Antrim.
"We have been having to take efficiencies. Where possible that's been through natural wastage and we'll continue to look for ways to become more efficient as a business and be around for a very long time," Mr Morgan said.