Adele Whiteside killing: Mum welcomes jail term action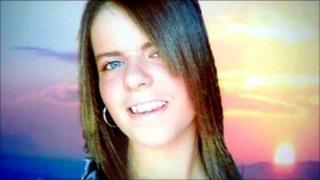 The mother of a 14-year-old girl killed by a dangerous driver has welcomed the activation of his suspended jail sentence.
In 2009, Martin McDonnell had his 18-month jail term suspended for three years after he pleaded guilty to killing Adele Whiteside.
On Thursday, a court heard that 10 months later, he was involved in another accident.
Adele's mother said she was "delighted" McDonnell would now serve his sentence.
"We would have liked to see a wee bit more added on," Shirley Whiteside said.
"If he had been sentenced properly he would not have been on the streets to reoffend."
Adele was leaving a wedding when she was knocked down on Finaghy Road South in Belfast by McDonnell in 2007.
She was thrown into the air as she was hit by the car, and was knocked a distance of 52.5m (170ft).
McDonnell, 22, from Garnock in west Belfast, pleaded guilty to death by dangerous driving, but walked free from court.
Ten months later he was the passenger in a stolen Subaru Impreza which was involved in a collision.
Prosecution lawyer Rachel Quigley told Belfast Crown Court that the driver of the mini-bus the Impreza crashed into, said the car was "absolutely flying" along the road.
McDonnell and the driver fled the scene but were later arrested at Lagan Valley Hospital.
He later pleaded guilty to aggravated vehicle theft causing injury, criminal damage and obstructing police for which he was handed a five-month jail term.
'Lesson'
McDonnell was due to be released from jail in two weeks time.
"I have no doubt whatsoever that the breach by you was a flagrant breach of the sentence I imposed and that it is my duty, and nothing less than my duty to activate that suspended sentence," said Judge Geoffrey Miller.
"I see nothing in the circumstances placed before this court that would prevent me or would permit me, even if I were so inclined to do, to moderate that sentence even by one day."
Adele's father, Alan Whiteside, said he had no doubt McDonnell would reoffend.
"In the end we have been proved right and the sentence was wrong," he added. "To a certain extent justice has been done in the sense that he is now in jail. Hopefully he will do the full 18 months."
Mr Whiteside has previously asked to meet Justice Minister David Ford to discuss the sentences handed down to dangerous drivers.
Mr Ford promised to organise a meeting in June.
In a statement released on Friday his department "apologised" for the fact that meeting had not taken place and said it would contact the Whiteside family to arrange talks with the minister.
"Sentencing in individual cases is solely a matter for the judiciary, and the department has no function in determining or appealing sentences," the statement added.
"However, the department is taking forward a number of measures designed to improve public confidence in sentencing, for example, work on sentencing guidelines."
Mrs Whiteside said killing her daughter "clearly didn't teach him (McDonnell) a lesson".
"He took that special child from my life. I would certainly say he deserves to be locked up," she added.
On Wednesday, the Whiteside family marked what would have been Adele's 18th birthday.
"We laid wee flowers and set off 18 lanterns. It was a lovely wee night," Mrs Whiteside said. "It's still very hard. You feel the pain everyday. But yesterday we felt the pain a wee bit more."