Not all going with the flow on the River Bann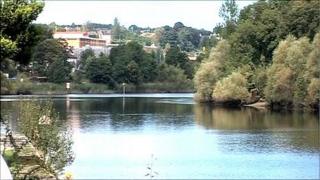 Is it Northern Ireland's last untapped tourist resource or just a big beautiful drain?
The River Bann is 39 miles long and is the passage through which excess water is drained off Lough Neagh.
The Rivers Agency looks after the water level on Lough Neagh and has a statutory obligation to make sure it does not rise above a certain point.
When it does, three gates along the River Bann open and let it roll down to the sea.
But it is this water movement that is causing concern to those who live beside or use the River Bann.
Some, like Rob Skelly, claim the sudden rush of water is eroding banks and making it dangerous for those using the water for leisure purposes.
Rob is a water skiing instructor and has had his business beside the River Bann for 20 years.
There are seven miles of the river zoned for water skiing and more extreme water sports.
"There are statutory levels Lough Neagh has to be kept within," he said.
"These were set in the 1950s. They need reviewed.
"There's a definite review needed of the management of Lough Neagh, we can have a day when the water levels are nice and low and then tomorrow, if Lough Neagh started to top out, the river could rise six feet and you have the water coming down at 10 or 12 miles per hour.
Pontoons
"We can't go into the water because there are trees and logs and debris washing off the banks and coming down the river.
"The other day the river was in flood and a friend of mine took his boat out and it was hit by a log. There was £500 worth of damage done."
It's an issue that is being closely followed by Coleraine Harbour Commissioners.
They have just signed a deal with Carrickcraft to bring six of their hire cruisers to Coleraine Harbour for 2012.
The Commissioners have also spent more than £500,000 putting in new pontoons and a new heavy duty slipway. They also have major plans to revamp the harbour into a thriving boat yard.
Ian Donaghy, Chairman of the Harbour Commissioners, says it good news for the town and for tourism.
He says this development means he would like the Rivers Agency to look again at the way the water levels are managed.
"What they seem to do is let the levels build up in Lough Neagh and then release it all of a sudden," he said.
"I think with careful management it could be released a bit more slowly and carefully.
"If we're putting hire boats on the river this will have to done and we need to have discussions about it."
Jonathan McKee from the Rivers Agency says it is essential they release the water from Lough Neagh but is willing to listen to concerns.
"We open the gates gradually first of all on day number one and then fully open on day number two," he added.
"It has been custom and practice over this last number of years after consultation with stakeholders to agree with them how this opening sequence could take place and it was felt it was best to draw the levels down quickly so that the River Bann could stabilise itself over a shorter period of time.
Wakeboarding
"However, if stakeholders did feel that there was something we could do that could reduce the effect of the draw down in terms of turbulence that may slow the velocity of the watercourse, we would be interested to hear any view they may have."
Meanwhile, local canoe instructor, Robin Ruddock, believes it is unfair to lay the blame squarely at the door of the Rivers Agency.
He says everyone who uses the River Bann has to accept responsibility for it.
"Fishermen might say too much water is released suddenly and it's an all or nothing sort of regime but probably the most natural regime would be to release some and build it up," he added.
"This is the only river that I'm aware of in Europe that allows waterskiing and wakeboarding on it so we are in a very unique position here.
"It's something that's been here historically and is there any way you can allow it to continue in the long term? My own view would be you would need to armour the banks of the river."