Shamrock Rovers reach Europa League group stages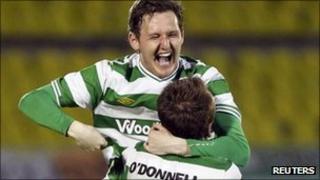 Shamrock Rovers have become the first club in Irish football history to reach the group stages of the Europa League.
The League of Ireland team defeated Serbian champions Partizan Belgrade 2-1 in the second leg of their tie following extra-time.
Vladimir Volka had put Partizan ahead, but the Dublin side replied with a 30-yard volley from Pat Sullivan and a Stephen O'Donnell penalty.
The first leg of the tie in Dublin had finished 1-1.
Shamrock Rovers are managed by former Northern Ireland international Michael O'Neill.
Macdara Ferris travelled to Belgrade to watch his team sail to victory.
"I was one of just 43 Shamrock Rovers fans at the game out of 18,000. We were screaming and cheering our team on," he said.
"I need to try and find some money and extra days off for the three away games that are coming up in Europe."
Mr Ferris said the Partizan players and supporters were gracious in defeat.
"I think they were angry at their own team and maybe their own management, but they clapped the Shamrock Rovers team off at the end and they clapped the fans out of the stadium as well.
"They were probably beaten by a more determined side on the night."