Lay magistrate Delia van der Lenden stood down over arrest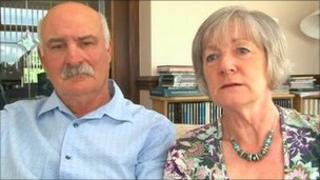 A lay magistrate has been stood down from the bench after she, her husband and her son were arrested and questioned over a kidnap and robbery in west Belfast.
Delia van der Lenden and her family were arrested on Monday, but later released unconditionally.
The Lord Chief Justice has since ordered her not to undertake any further duties until further notice.
Mrs Van der Lenden has criticised the PSNI over the arrests.
The part-time management consultant was formerly the chief executive of the Northern Ireland Childline charity.
Paid the price
Her son, Ciaran Cunningham, is a republican political activist. In 2004 he was jailed for six years after pleading guilty to five charges of collecting information likely to be useful to terrorists while he working at the Royal Victoria Hospital.
Mrs Van der Lenden said she did not share her son's political views and that he had "paid the price" for what he did.
She said police officers arrived at her home on Monday morning.
"We were told they had intelligence that we were members of an illegal organisation namely Óglaigh na hÉireann and had intelligence that we were implicated in that appalling crime in Lagmore where a family was kidnapped."
A man, his 16-year-old son and his partner, were having dinner earlier this month, when masked men broke in and held them at gunpoint.
The teenager and the woman were held captive in County Monaghan. The man, a security van driver, was ordered to get money from work.
It's believed a £200,000 ransom was handed over.
Scary experience
Mrs Van Der Lenden said her husband Peter, a retired Dutch naval officer, had to receive medical treatment following his arrest on Monday.
"When the cell door bangs behind you and you have no real understanding of what's happening, it's a very scary experience," she said.
Mrs Van der Linden said her husband was recovering from a stroke and had a panic attack when he was put in a police cell.
"He has led an exemplary life in his own country. A country where abuses of human rights like this would not be tolerated, the police would be held accountable
"He has no knowledge or interest in the political situation in Northern Ireland.
"I've had an exemplary career, senior positions in the public sector and in the voluntary sector.
Inappropriate
"We are such unlikely terrorists that even the most junior PSNI officer would have thought it wise to check their sources."
In a statement the police said they had "a duty to follow all lines of enquiry in an investigation".
"We do this within the law and with the objective of bringing criminals before the courts, mindful of the human rights of all," the statement said."
Regarding her position as a lay magistrate, Mrs Van der Lenden said because of the disciplinary code of practice they work under, it would be "inappropriate to carry out any duties until the issue is resolved".
In a statement, the Lord Chief Justice said she could not "undertake any functions associated with her role until further notice".
It continued: "This instruction was issued on 22 August and will be reviewed subject to any representations she wished to make to the Lord Chief Justice on the matter."
Sinn Fein MP Conor Murphy said the police had the responsibility to investigate, but that they also had a responsibility to "be seen to be acting competently".
Ulster Unionist assembly member Ross Hussey said he did not regard the arrests as "an abuse of power" by the police and said they had been "honour bound" to investigate.