Man jailed for three months for making 'bean' bomb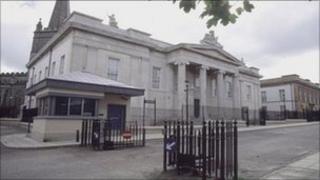 A 26-year-old man who made a hoax bomb from two tins of beans has been jailed for three months at Londonderry Magistrate's Court.
James McAuley from Kavanagh Court threw the tins into his uncle's home in Ballachmore in the early hours 6 June.
The cans had been taped together and had wires and a watch attached to them.
The court heard how McAuley shouted "tick, tock" as he threw the device through the front door.
A prosecuting solicitor told district judge Barney McElholm that McAuley's uncle threw the tins out of his home and they landed underneath his car. He then alerted the police.
The solicitors said the incident caused widespread disruption, which included the evacuation of more than 20 nearby homes and the tasking of army bomb disposal experts.
He said in a separate incident two months earlier on 8 April, McAuley was arrested for disorderly behaviour at Strand Road, when he was verbally abusive to police officers.
They had been called to the scene following reports that a large crowd was disrupting passing traffic.
When he was arrested there, McAuley sang the Fields of Athenry, made sectarian comments to a police officer and made an offensive reference to the Queen, the court heard.
Defence solicitor Seamus Quigley said after his arrest for the bomb hoax incident, McAuley told the police that the device consisted of two tins of beans.
As a result of that information, the army bomb disposal unit, which was based in Belfast, was stood down.
He said McAuley thought the incident was very funny, but in reality it was far from funny, especially for the residents who had been evacuated from their home.
Mr Quigley said McAuley, when drunk, was a "nuisance".
The district judge said one of the most concerning aspects of the bomb hoax case was that McAuley had stopped at his home on his way to his uncle's house and collected the device from his garden shed where it had been for two weeks.
He said it was not a case of someone throwing a bag into a property and shouting "bomb". It was, he said, a premeditated action by McAuley who in the past had made false reports to the police.
When he was jailed for three months, McAuley's mother left the court room in a distressed state.