Antrim man Kyle Taggart 'stamped on teenager' in attack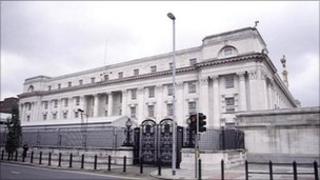 A teenager was attacked and stamped on by men accused of trying to murder him in Antrim, the High Court has heard.
The alleged sectarian attack happened after the 17-year-old victim was questioned about where he had been, according to the prosecution.
He has since had facial surgery for wounds inflicted during the assault.
Details emerged as bail was refused to 22-year-old Kyle Taggart, of Kilgreel Road, Antrim, one of three men charged with his attempted murder.
The attack happened after the victim and three friends were dropped off by a taxi after returning from Magherafelt on 5 August.
Prosecution lawyer Ian Tannahill told the court the friends had been approached by three men, including Mr Taggart, and asked where they had been.
It was claimed that after they named a bar one of the co-accused said they were Catholics and that Catholics should not be in the area.
According to the prosecution the two groups parted, but a short time later the victim was confronted in the Station Road area by one of the suspects and punched twice in the face.
His friends alleged that Mr Taggart and the third man then arrived at the scene and joined in the attack, the court heard.
Mr Tannahill claimed the victim was punched, kicked and stamped on as he lay on the ground.
The three men then ran off towards the nearby Parkhall Estate, leaving the teenager unresponsive and covered in blood.
CCTV footage has been secured from a Tesco store in the area, a bus station and Northern Ireland Railways as part of the investigation.
Mr Tannahill said it was accepted that Mr Taggart did not make the sectarian remarks.
But opposing bail, he added: "This man, on the Crown case, decides to involve himself.
"We say he can't distance himself from the sectarian nature of what happened."
The court heard that all three accused denied any sectarian element.
Mr Taggart claimed in interview that he got involved to pull the others away, and was acting as "a peacemaker".
A lawyer defending Mr Taggart said: "We say the Crown case is wrong. It was never put to him there was any sectarian language from him."
But refusing bail, Lord Justice Higgins ruled that the application was premature.