Shamrock Rovers draw Spurs in Europa League group stages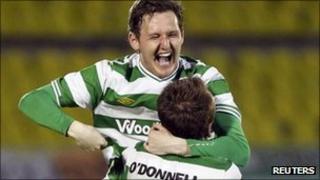 Shamrock Rovers chairman Jonathan Roche has said drawing Tottenham Hotspur in their Europa League group is a dream come true for their fans.
The Dublin side, who are managed by former Northern Ireland international Michael O'Neill, will also play Russia's Rubin Kazan and Paok FC from Greece in the same group.
It follows Rovers' victory against Serbian champions Partizan Belgrade 2-1 in the second leg of their tie on Thursday night. The first leg in Dublin had finished 1-1.
Shamrock Rovers became the first club in Irish football history to reach the group stages of the Europa League.
Mr Roche said the magnitude of their success "hasn't quite soaked in".
"It's been an unbelievable two days," he said.
"Five years ago we were relegated, then the fans took over the club and we won the league for first time in 16 years last season.
"Hopefully now this shows people that we play a good style of football.
"It's not really about the money but it's the whole razzmatazz and the whole profile on the football club. Hopefully we can do ourselves justice."
On Thursday night, Vladimir Volka had put Partizan ahead, but the Dublin side replied with a 30-yard volley from Pat Sullivan and a Stephen O'Donnell penalty.
Macdara Ferris travelled to Belgrade to watch his team sail to victory.
"I was one of just 43 Shamrock Rovers fans at the game out of 18,000. We were screaming and cheering our team on," he said.
"I need to try and find some money and extra days off for the three away games that are coming up in Europe."
Mr Ferris said the Partizan players and supporters were gracious in defeat.
"I think they were angry at their own team and maybe their own management, but they clapped the Shamrock Rovers team off at the end and they clapped the fans out of the stadium as well.
"They were probably beaten by a more determined side on the night."