Ex-Lehman Brothers bosses bid to settle NI pension fund case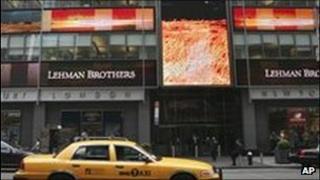 Former bosses of the failed Lehman Brothers bank have asked a judge to release $90m in insurance funds so they can settle a fraud case brought by investors which include the pension fund for many Northern Ireland civil servants.
The Northern Ireland Local Governmental Officers Superannuation Committee (NILGOSC) runs the pension scheme for council employees, staff of Translink and many others.
Between September 2006 and March 2008 NILGOSC bought 197,000 Lehman shares.
It alleges that the prices it paid were artificially inflated by Lehman not revealing the true extent of its exposure to the US subprime-mortgage crisis.
Co-claimants in the case include two California pension funds and the Edinburgh City Council pension scheme.
Reuters reported that in papers filed on Wednesday in the US bankruptcy court, 14 directors, including former Chief Executive Dick Fuld, have asked a judge to modify bankruptcy rules to give them access to insurance policies.
US District Judge Lewis Kaplan in Manhattan federal court is handling the lawsuit, which is being led by five retirement funds.
Before he can consider any settlement, the bankruptcy court must first allow the release of the insurance funds, which are otherwise off-limits as part of the US Bankruptcy Code.
Mortgage lending
In July, Mr Kaplan dismissed some of the investors' claims but allowed them to pursue claims that Lehman misled them about its accounting and ability to manage risk prior to its bankruptcy in September 2008.
It was the largest company failure in US history and the key moment in the world banking crisis which was precipitated by reckless mortgage lending in the US.
The funds which the Lehman directors want to access would come from liability policies worth $250m in total, issued by such companies as Liberty Mutual Insurance - which owns a majority stake in Quinn Insurance.
The attempted settlement comes amid other investigations into Lehman's collapse, although there have been no US prosecutions of top company officials.
In December 2010, then-New York Attorney General Andrew Cuomo sued Lehman's former auditor, Ernst & Young.