Filming begins on Terri Hooley movie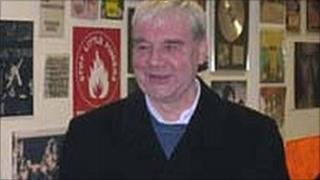 It has been ten years in the making and finally this weekend, filming on a new movie about the godfather of the Belfast punk scene, Terri Hooley, will get under way in the city.
Hooley's Good Vibrations shop was a focal point for the punk movement in Northern Ireland in the late 1970s and a magnet for members of its leading bands including The Undertones and Stiff Little Fingers.
The Undertones were just one of a host of bands signed to the record label bearing the shop's name.
Their song Teenage Kicks was played twice in one night on legendary Radio One DJ John Peel's show, and the rest as they say is history.
That history will now be captured in the film about Hooley which will see actor Richard Dormer, acclaimed for his stage performances as snooker star Alex 'Hurricane' Higgins, in the leading role.
"Originally Michael Fassbender was to play me, but we did a pilot and Richard Dormer who is well known for playing Alex Higgins on stage played me in the pilot," Terri Hooley said.
"Richard is fantastic, we were all hoping at the end that it would be Richard and we are delighted that it is Richard."
Leading comedian and actor Steve Coogan is also expected to feature as a record producer in the film which will be shot in Belfast and Dundalk in the Irish Republic.
Hooley explained the background to the County Louth town being chosen as a location.
"Belfast has changed a lot in the last 30 years, if you were away 20 or 30 years you wouldn't know the place at all," he added.
"There are parts of Dundalk that look very much like Belfast in the 1970s."
He said he was delighted that a positive part of Northern Ireland's history, which emerged against the backdop of the Troubles, was being showcased.
"They were dark days, the seventies was a terrible time in the history of Ireland," he added.
"Murder gangs were on the streets, they were bombing the city, Belfast city centre had a ring of steel around it and nobody went into the city centre at night.
"All you saw was the police and the army and it was really the punks that opened up the nightlife in the city again."