Tampered Nurofen tablets found in Northern Ireland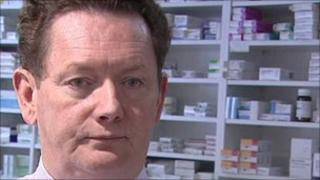 One of the packets of Nurofen Plus which led to a recall of the painkiller was found in Northern Ireland.
The strip of tablets had been substituted with a prescription medicine for epilepsy.
Four packets in the London area contained a common drug used in the treatment of mental illnesses.
Police are investigating the possibility of sabotage. Customers can return the packs to any chemists.
Terry Maguire, a member of the Pharmaceutical Society of NI and a community pharmacist, said what had happened was "extremely worrying".
"What we are concerned about is why this happened or how this happened to make sure, first of all, that we fully understand it and, secondly, to ensure it does not happen again," he said.
"It seems at this stage it is some form of sabotage. The police are involved and investigations are ongoing. It will be over the next number of days that we will find out what has happened and what the issue is."
Mr Maguire reassured people that the tablets found look very different to Nurofen and are labelled differently on the strip.
He said anyone who had concerns should bring their tablets back to their local pharmacist who would deal with them.
Nurofen Plus is only sold over the counter by pharmacists on request. No other types of the brand are affected.
All stocks of Nurofen Plus have also been recalled from pharmacy shelves in the Republic of Ireland.