Tidy NI survey says streets dirtier now than four years ago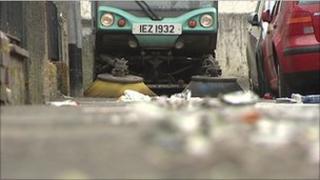 A survey has found that Northern Ireland's streets are dirtier now than at any time in the last four years.
Environmental charity Tidy Northern Ireland found this was despite local councils spending £34m on street cleaning during that period.
It surveyed more than 500 sites across NI for the department of the environment.
Only 2% of areas had no litter, and 14% failed to reach an acceptable standard, up from 8% in 2009.
Tidy NI said more litter was observed overall and the figures show the highest percentage of areas failing to meet government standards for litter since 2006.
Almost all types of litter became more common in the areas surveyed, which included retail, industrial, housing and recreational areas.
Cigarettes and chewing gum were almost "ever-present" in retail areas.
Dog fouling
Drinks litter - cans, bottles and cartons - was found on nearly nine out of 10 rural roads, and was more common across all land uses than chewing gum.
The amount of dog fouling observed increased five-fold, being found on no less than 15% of all surveys carried out and was found in over a quarter of recreational areas.
Local environmental quality officer for Tidy Northern Ireland, Chris Allen said the survey made "depressing reading" for anyone with an interest in improving Northern Ireland.
"When I look at this data, I am saddened by the way councils are having to spend more than ever to clean up after a minority of selfish people who take no regard for the beautiful country around them," he said.
"On average, every household in the country is being charged around £50 a year to sweep the streets and remove graffiti, and it's time we found a new way of tackling this serious problem."
The charity is holding a conference in Lisburn on 14 September for all interested parties to come together to discuss how to change the public's outlook on litter.
A copy of the report and more information about the conference can be found at Tidy Northern Ireland.