Ballyclare leisure centre bomb alert 'was hoax'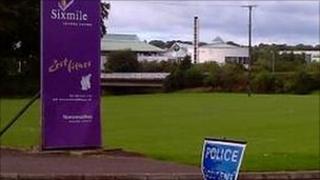 A bomb alert at Sixmile Leisure Centre in Ballyclare has ended.
The area was extensively searched and nothing was found. It has been declared a hoax.
The alert was raised following a telephone warning at 09:30 BST saying that a bomb had been left in near the centre on the Ballynure Road.
It was evacuated as a series of searches were carried out. South Antrim DUP MLA, Trevor Clarke, condemned those behind the alert.
"Be this a hoax or the real thing I condemn them for their actions and praise the staff at the leisure centre and the PSNI for acting in order to ensure the safety of users and locals," he said.
"Those responsible have nothing to offer society."