Thousands attend multi-cultural Mela festival in Belfast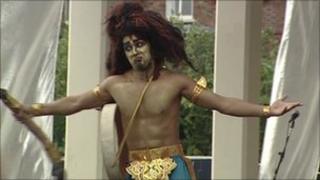 Thousands of people have attended the annual multi-cultural Mela festival in Belfast.
The event, which is in its fifth year, featured more than 20 international and local musical acts, a world food market and an ethnic circus.
Organisers said it had been the best year yet.
Chair of ArtsEkta, Mukesh Sharma said the programme was designed to reflect the increasing diversity in Northern Ireland.
"The idea behind the festival is to show community cohesion, to showcase all of the cultures that make up the new Northern Ireland that we're living in, and to show the change that we've went through in NI over the last number of years," he said.
"I'm delighted with the interest that people are showing in this event.
"It is growing year-on-year in terms of the activities, in terms of the people that come along, and also in terms of the facilities that we lay on for the people coming in."