Attwood says councils to get more powers to tackle litter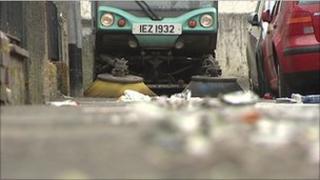 The environment minister has said NI councils are to be given more powers to tackle the problem of litter.
Alex Attwood was responding after a survey by Tidy NI which found NI's streets are dirtier now than at any time in the last four years.
This was despite local councils spending £34m on street cleaning during that period.
Mr Attwood said the new powers would come into effect from next April.
"The councils in NI, which are responsible for cleaning our streets are spending £100,000 a day, and if our streets aren't clean enough, it is not helpful to inward investment, tourism or the quality of life that we lead and it costs us a lot of money," he said.
"What the assembly has done is given more powers to councils and these powers will be live by April 2012 whereby councils will be able to spot fine people higher fines and I will give the councils greater powers to make sure that people clean up the streets."
'First impressions'
Mr Attwood said people in Northern Ireland were not taking the issue of littering "seriously enough".
"The appearance of our streets, their cleanliness or otherwise is in many ways the first impression that people have when they come to NI," he said.
He warned that those who litter can expect to pay for their actions.
"Under the Clean Neighbourhood act, spot fines will be increased by 50%, up to £75 and if the councils want to go higher than that they now have the freedom to do so," he said.
"I will also give them powers to serve notices to clean up streets and in future people will need approval for handing out free literature and leaflets outside shops on the streets of Belfast and elsewhere, in an effort to build more responsibility into not just those who distribute paper but all of us."
"If people end up going to court level, because at the moment this is all done by the way of a spot fine, then the level of fines can be up to £2,500.
"There is no reason why in the event of people littering our streets, dropping fag butts, gum, paper, drink cans, that part of the response should not be for people to have the requirement to clean up the streets."
Tidy NI surveyed more than 500 sites across NI for the department of the environment.
Only 2% of areas had no litter, and 14% failed to reach an acceptable standard, up from 8% in 2009.
Tidy NI said more litter was observed overall and the figures show the highest percentage of areas failing to meet government standards for litter since 2006.
Cigarette butts
Almost all types of litter became more common in the areas surveyed, which included retail, industrial, housing and recreational areas.
Cigarettes and chewing gum were almost "ever-present" in retail areas.
Drinks litter - cans, bottles and cartons - was found on nearly nine out of 10 rural roads, and was more common across all land uses than chewing gum.
The amount of dog fouling observed increased five-fold, being found on no less than 15% of all surveys carried out and was found in over a quarter of recreational areas.
Tidy NI is holding a conference in Lisburn on 14 September for all interested parties to come together to discuss how to change the public's outlook on litter.
A copy of the report and more information about the conference can be found at Tidy Northern Ireland.