Phillip McCallen: Wayne Hamilton was 'future superstar'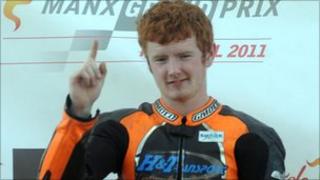 The Northern Ireland motorcyclist who was killed in an accident on the Isle of Man on Monday has been described as an "up and coming superstar" by one of the sport's legends.
Wayne Hamilton, 20, from Portadown, died after a crash in the Junior Manx Grand Prix race on Monday.
He had won the Newcomers 'A' Race at the Manx Grand Prix on Saturday.
Phillip McCallen, who has 11 Isle of Man TT wins, said Mr Hamilton had been set to enter the "bigger league".
He said he had triumphed in the Newcomers race as he started out on his motorcycling career more than 20 years ago.
"That is one of the tough, hard things about motorcycling," Mr McCallen added.
"On Saturday, the family, the dad who I know pretty well, the team were so happy.
"There is no feeling in the world like it and it was superb, but unfortunately three or four days later you are talking about them having the worst feeling and the worst thing that could happen in the world."
Mr Hamilton was involved in an incident at the 13th milestone section of the course on the approach to Kirk Michael.
His death follows that of County Tyrone motorcyclist, Adrian McFarland, who was killed in a crash in the Czech Republic on Saturday.
Mr McFarland, 41, from Plumbridge near Omagh, died after he crashed during a race near the town of Hradec Kralove.
'Natural ability'
Mr Hamilton made his road racing debut at the Bush Road Races in 2009, where he won the Junior Support race, setting a lap record.
He also won at Mid-Antrim, Armoy and Skerries in his debut season and finished first in the Dundrod 150 Supertwin event earlier this month.
Mr Hamilton, was a member of the North Armagh Motorcycle Club.
The club's treasurer, Ian Forsythe, said the rider had put a "a lot of time, effort and natural ability" into his racing career.
"He did all his homework very well and was progressing in the sport in a very sensible fashion," he said.
"He certainly would have had a great future in front of him."
Safer tracks
Sheila Sinton, whose son Eddie was killed in 2000 at a motorcycle race in Carrowdore, said Mr Hamilton's passing was a "sad loss".
She said she felt he was aware of the risks that were involved in the sport.
"The only thing we can do in the sporting line is make it as safe as possible and over in Northern Ireland we have made our tracks as safe as is humanly possible," she added.
"You can never make anything completely safe."
Ms Sinton was involved in establishing a welfare fund for injured motorcycle riders along with two friends in 2003.
She said Mr Hamilton's family would receive emotional and financial support following the tragic accident.
Bill Bennett, chairman of the Manx Motor Cycle Club, also paid tribute to Mr Hamilton.
"Wayne was a very promising competitor who had already achieved notable success in his road racing career," he said.
"He had already set the meeting alight with his excellent performance in Saturday's Newcomers Race and I have no doubt that he would have won many races on the Isle of Man.
"He is a great loss to the sport and I would like to extend my deepest sympathy to his friends and family."