Derry striker Mark Farren returns to game after illness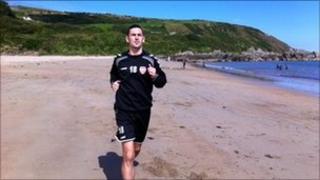 Derry City striker Mark Farren looks set to make a sensational return to competitive football after overcoming serious illness.
He was diagnosed with a brain tumour almost three years ago but has had successful surgery and intends to be back scoring goals soon.
It has been a long hard road back to full fitness for the league of Ireland footballer.
The talented striker was determined to make it after being diagnosed with a benign brain tumour in 2008 on Christmas Eve.
He said it was a "devastating time" when he was given the news.
"You just try and deal with it in any way that you can," he said.
"You need to keep strong and you need to be positive all of the time.
"I think that's what got me through in the end because obviously my family were devastated at the time."
Support
The 29-year-old has scored 107 goals for Derry City since he joined in 2003.
He paid tribute to everyone who supported him - from medical staff to family, friends and the wider footballing community.
"Obviously receiving letters from Linfield fans, Glentoran fans, Dundalk, Shamrock Rovers, it was unbelievable the support they gave me," he said.
Despite the traumatic news Mark Farren got on with his life.
After a successful seven hour operation to remove the brain tumour he was told he can play again.
During his illness he married Terri, his "perfect match".
"For us to come through that, it made us a better couple," she said.
"It was hard, you just sometimes had to think that life does go on so we tried to put it to the back of our minds as much as possible and deal with it and enjoy our big day, which we did.
"We had a fabulous day."
The player can't wait to get back to doing what he does best and according to club manager, Stephen Kenny, he is the best the club has seen.
"He has an unequalled goal scoring record with the club in his goals per game ratio in the history of the club.
"He's just a very modest guy, great humility, he just coped with this tremendously well."