The classic car that drove into a Hollywood blockbuster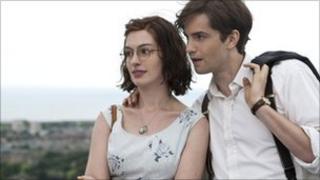 When Gabriel Carlin bought a white 1966 Triumph Vitesse two years ago, he could not have imagined that it would end up appearing in the Hollywood blockbuster One Day.
The car came into his possession after someone traded it into the car dealership where he worked.
"I asked the boss what he needed for it and I just bought it," he said.
"The wee car needed a bit of spray painting and a few other bits of work."
Mr Carlin kept the car for a year before he toyed with the idea of selling it to buy another car.
"I put it onto one of the local websites and this guy rang me from London," he said.
"He supplied cars to all the Harry Potter films and others.
"He said he would be interested and I said fine, but after reflecting, I asked him if I sold it to him for use in a film, could I have first refusal afterwards because my daughter Sinead had become very attached to the car."
Excitement
The car left Northern Ireland in July 2010 and was away until just before Christmas.
"Me and my daughter were excited to be getting it back. I took her over to London and we drove it back."
Gabriel spent from January until the end of March restoring the car back from the blue that they had in the film to the original white with a black stripe up it.
"My daughter was doing her first communion so it was a push to get it finished," he said.
"She felt like a princess being driven in the wee car on her big day.
"I don't intend to sell the car and it will be hers for all her bigger days as she gets older."
Northern Ireland's unpredictable weather means the car is only used on "dry-days".
"There is a roof on the car which does come up, but the car is only used on weekends and sunny days to take Sinead and my son for ice-creams and trips to the local country park," he said.
Gabriel chose not to tell people that his car was going be featuring in a film, but despite this it has attracted attention.
"It appeals to people of about 65, maybe 70, because that would have been the car in their day," he said.
"You get a lot of questions from people asking about the car, people stopping and flashing, and looking.
"The car is not pristine but it is a very good practical classic."
When Gabriel saw the trailer for One Day, he knew straight away that it was his car.
'Personality'
"It was a bit of a shock to see that it had been painted blue but with me working on bodywork, it is what I do for a living, so I knew that it was only going to cost me my time," he said.
"You put a bit of TLC and your heart into it, the car becomes a bit more of a personality and becomes almost part of the family.
"My daughter has named her Sasha. She named her before I sold it, so as far as she was concerned we were flying to London to get Sasha back."
The father of three said he felt proud to see his car on the big screen when he went to watch the film.
"Everybody sits and watches the film, you just think to say, 'yeah, that's my car' and put your hand up, but you just sit back and smile to yourself and take it in."