PSNI 'vindictive' over Brian Campbell visa issue - SF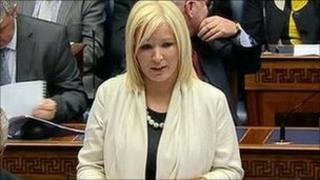 A Sinn Fein MLA has claimed the denial of an Australian visa to a man detained last month over the murder of Ronan Kerr is due to PSNI "vindictiveness".
Michelle O'Neill wrote to police on behalf of Brian Campbell, 23, asking them to tell the Australian embassy he was released unconditionally.
She said the PSNI actually told the embassy that the Coalisland man was still under investigation.
Ms O'Neill added that the embassy then disallowed his appeal.
In a statement, police said: "This is an ongoing and active investigation into the murder of a police officer and associated crimes.
"As a matter of course, PSNI liaises with other sovereign authorities if we believe they have a material interest in matters which we are investigating.
"It is the sovereign authorities' decision, and theirs alone, about who they choose to admit to their national territory."
'Obstructive'
Mr Campbell was one of several people arrested in a high profile operation by officers investigating the murder of PSNI constable Ronan Kerr in April.
His arrest was criticised by the Deputy First Minister Martin McGuinness who said that his constituent had been in the United States at the time of the murder.
Mr McGuinness' colleague Michelle O'Neill said she was outraged at how "obstructive" the PSNI had been over the visa issue.
She added: "Whilst I accept that this is a live investigation, this could be the case for the next twenty years - does that mean that everything this young man does in his life will be dictated by this?
"I will be seeking an urgent meeting with the local PSNI commander to ensure that any letter in reference to the visa application states that this young man is innocent.
"I also intend to find out why Brian is experiencing these difficulties and seek an apology from the PSNI."
She added that she would consider asking the Police Ombudsman to look at the case.