Order backs DUP Mayor's joint statement with priest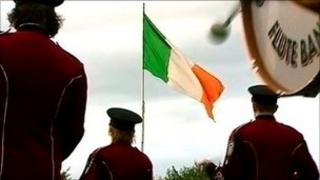 The Orange Order has said there is no chance of the Ballymoney mayor being thrown out of the loyal orders for his work alongside a parish priest.
Ian Stevenson issued a joint statement with Fr John J Murray appealing for calm ahead of the controversial Rasharkin parade last week.
The DUP councillor has come in for criticism on the North Antrim Ulster Unionist Facebook page.
A post called for him to be kicked out of the DUP and the Orange Order.
The entry read: "What gives him the right to issue religious statements jointly with a priest and has he forgotten he is a member of the loyal orders, as well as Dunloy Accordion Band?"
"He should be made to resign from the DUP if they as a party had any scruples and booted out of the loyal orders."
Cllr Stevenson and Fr Murray issued a joint seven-point "statement of belief" before the Rasharkin parade stressing their common beliefs - such as "freedom of religion", opposition to all criminal behaviour and a belief in the 10 Commandments.
And now, the Orange Order has backed the mayor's appeal before the parade, stressing the organisation's co-operation with other religious groups.
"There was no problem co-operating with people from other religions, particularly when it was for the benefit of the whole community," said a spokesman.
"The Orange Order has met leaders of the Catholic Church and has a successful programme of outreach with Catholic schools."
"Move forward"
The DUP has also given the Ballymoney mayor the party's full backing in writing the joint statement with Fr Murray.
Cllr Stevenson said he was "stunned" that he had come in for criticism from fellow unionists.
"As mayor I wanted to bring the community together and work to ease tensions in Rasharkin," he said.
"Northern Ireland will only be able to move forward when all sides commit to a shared future, where we are prepared to share our facilities and share space in our towns.
"I always thought the UUP supported a shared future but it seems by this broadside that they opposed my joint statement with a local priest."
The North Antrim UUP Facebook page is linked to Ulster Unionist assembly member Robin Swann but he has moved to distance himself from the comments.
He said: "I had no problems with the joint statement but I think there are people who had concerns with the religious element, which would be contrary to the Orange Order stance."
The statement has since been taken down from the Facebook page.