Man jailed for second Ardoyne rioting offence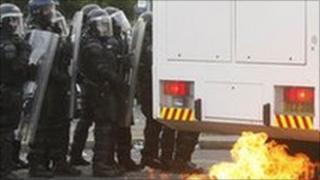 A man who attacked a police land rover during the Ardoyne riots on 12 July last year was jailed on Tuesday for a year.
Stephen James Fox, 34, from Victoria Parade in Belfast, was ordered to spend a year in jail to be followed by 15 months on licence.
Belfast Crown Court heard that Fox had previously been jailed for 15 months in 2005 for rioting in Ardoyne.
He had admitted rioting and attempting to cause grievous bodily harm.
Judge Tom Burgess said it was a "particularly concerning" aspect of the case that Fox had been jailed previously for similar offences.
The prosecution told the court how Fox was seen on CCTV footage as part of a crowd attacking an isolated police land rover and trying to pull its grille off.
He was also spotted throwing missiles at an opposing faction but when arrested and interviewed, Fox denied any wrongdoing and gave a false alibi.
He did later plead guilty to charges of riot and attempting to cause criminal damage to the PSNI property.
During previous court hearings earlier this year, when over 20 defendants were sentenced, the court heard the full details of the 12 July rioting in Ardoyne.
'Lack of judgement'
Over the course of around seven hours of rioting, 75 petrol bombs and numerous missiles were thrown at police.
48 officers were injured including a policewoman who suffered head injuries when a lump of concrete was dropped on her from a roof in north Belfast.
In monetary values, the damage to cars in the area amounted to £22,000, damage to police clothing and equipment came to nearly £9,000.
The total cost of policing the riot was nearly £800,000.
The defence said that while Fox's previous conviction might lead to the perception that he was an organiser or leader of the rioting, reports showed that he had problems with drink and drug addictions.
His lawyer said this lead to a "lack of judgement and perception of trouble".
Judge Burgess said the attack on officers trapped inside the confined land rover, surrounded by a hostile crowd "was a particularly frightening snapshot of part of the violence which was totally unacceptable."