Arlene Arkinson search: Police pledge to end family's 'torment'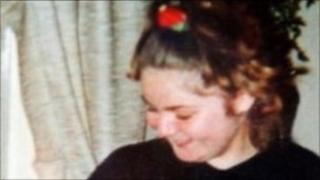 Police have pledged to do all they can to recover the body of missing County Tyrone teenager Arlene Arkinson as searches get under way for her remains.
Arlene, from Castlederg, was 15 when she disappeared in 1994 after a night out in Bundoran, County Donegal. She is believed to have been abducted and murdered.
Convicted child-killer and rapist, Robert Howard, 77, was charged with her murder but was acquitted.
The police will now search 48 sites.
On Wednesday, a team of police officers and specialist dogs started searches on land at Scraghy Road between Castlederg and Ederney, County Fermanagh, where Arlene was last seen in the early hours of 14 August 1994.
The officer in charge of the investigation, Det Supt Raymond Murray, said Arlene's family "had been in torment for 17 years" and that police wanted to do everything they possibly could to bring closure.
"There've been over 80 searches carried out in the last 17 years, but what we did late last year and early this year is look at the searches with a modern eye.
"We put together a panel of three very experienced PSNI police search advisors and asked them to review the search operation.
He said the team "looked at it through modern techniques - what victim recovery dogs can deliver for us now and what data bases indicate to us from England about the behaviour of people who engage in murder and where they may leave human remains.
"After doing that, we've decided there is a search operation to be mounted and we're now looking at 48 sites over the next three phases of two weeks."
He added: "Arlene's sisters and brothers have suffered for too long.
"Despite the considerable time gap and the challenges involved in locating remains, we will do everything we possibly can to achieve this (find her body).
"On a policing level, the recovery of remains may represent a significant opportunity to progress the investigation, as knowledge of any remains or the location of a body deposition site may provide evidence to further our enquiries."
Appeals
Det Supt Murray said that although the police investigation had been extensive and there had been a court case, he did not rule out the possibility that there was "information in the local community which still has not been provided to detectives".
He said Arlene had been last seen leaving a farmhouse off the Scraghy Road and getting into a blue Metro car with a man.
Det Supt Murray appealed for anyone who saw the car or any other suspicious activity to contact police.
Police have opened a special telephone line for members of the public who want to provide information. The telephone number is 02871 379793.
Arlene's sister Kathleen has said the whole family are hoping for a breakthrough.
"Arlene is lying out there and it's not fair and all we want to do is bring her home and bury her and put her along with her mother and father and our other sister Mary who passed away in 2002," she said.
"The whole family's here and I just hope the outcome's good.
"It's been very difficult. If Arlene is not found in this search I don't know where we're going to go to."
Police had been due to carry out searches for the missing teenager last January, but they were called off because of the severe weather conditions.
Robert Howard was acquitted of murdering Arlene in 2005.
The trial jury did not know, at the time, that he was already serving a life sentence for murdering 14-year-old Hannah Williams, from south London.