Dead rider Wayne Hamilton was a 'beautiful brother'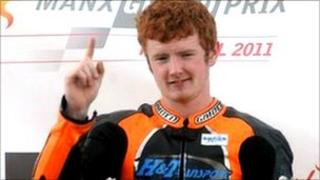 The 13-year-old sister of the Northern Ireland motorcyclist killed on the Isle of Man has told the BBC her "beautiful brother" will never be forgotten.
Wayne Hamilton, 20, from Portadown, died after a crash in the Junior Manx Grand Prix race on Monday.
He had won the Newcomers 'A' Race on Saturday and was widely tipped to be a star of the future.
Mr Hamilton was the second rider from Northern Ireland to be killed over the weekend.
Adrian McFarland, 41, from Plumbridge near Omagh, was killed in a crash in the Czech Republic on Saturday.
Laura Hamilton said her brother died doing the thing that meant most to him in the world.
"It was his passion and he fulfilled his dream and that was what he wanted to do," she said.
"What he did, he knew the risks, and he was willing to take them. He's my beautiful brother and he will never be forgotten"
"My daddy and mummy always knew it was what he wanted to do and he was going to do it no matter what.
"It's a tragedy that his life was taken from him but he did what he loved and I think he would have liked to go that way."
Laura also said that her family still supported road racing despite more criticism of the dangers involved following the two deaths.
"It's what Wayne would want. If people want to do it they learn the risks, they understand the risks," she said.
"It's not always going to be a picture perfect time, but if they love doing it there's no stopping them."
Phillip McCallen, who has 11 Isle of Man TT wins, said Mr Hamilton had been set to enter the "bigger league".
He said he had triumphed in the Newcomers race as he started out on his motorcycling career more than 20 years ago.
"That is one of the tough, hard things about motorcycling," Mr McCallen added.
"On Saturday, the family, the dad who I know pretty well, the team were so happy.
"There is no feeling in the world like it and it was superb, but unfortunately three or four days later you are talking about them having the worst feeling and the worst thing that could happen in the world."
'Natural ability'
Mr Hamilton made his road racing debut at the Bush Road Races in 2009, where he won the Junior Support race, setting a lap record.
He also won at Mid-Antrim, Armoy and Skerries in his debut season and finished first in the Dundrod 150 Supertwin event earlier this month.
Mr Hamilton, was a member of the North Armagh Motorcycle Club.
The club's treasurer, Ian Forsythe, said the rider had put a "a lot of time, effort and natural ability" into his racing career.
"He did all his homework very well and was progressing in the sport in a very sensible fashion," he said.
"He certainly would have had a great future in front of him."