Children in Poleglass warned of manhole dangers after theft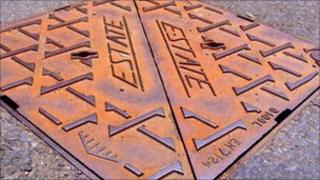 Parents in west Belfast's Poleglass estate have been asked to keep their children away from the grounds of a local community centre after 20 manhole covers were stolen at the weekend.
Thieves broke into the grounds of the Sally Gardens Community Centre and ripped them up from a pitch on the grounds.
They have been replaced with temporary covers by NI Water.
The rising price of scrap metal has led to a rise in such thefts.
Police have warned that the theft of manhole covers could place the lives of the public at risk.
"Due to the current high price of scrap metal, the theft of manhole covers has emerged over the past few years as a significant issue throughout the Northern Ireland, the Republic and elsewhere," a police spokesman said.
"This practice is causing a real hazard and has the potential to lead to serious accidents.
"Most incidents take place at night and there is an increasing worry that pedestrians, cyclists and even cars may not see the danger they are approaching."
The chairperson of Sally Gardens Community Centre, Michael George, said he had been told by a local councillor that children had been caught climbing down the holes to explore the sewer network below.
"Thankfully it was some of the smaller ones, because some of the holes were eight or nine feet deep, but the kids were in ones that were one or two feet. It could have been a major issue," he said.
"It was bizarre when I first saw it, it was a bit like a rabbit warren, the holes just right across this bit of waste ground.
"I believe there were also six or seven water covers taken from back roads, which police tell me you could have had a car very easily go down one of these holes and severely damage or cause injury to people."
Mr George said the plywood temporary covers that were put in place by NI Water were not "very secure".
"We have asked NI Water to come back and replace them with something more adequate," he said.
"They said there is a new rubber plastic cast cover that they're putting on now, because the cost of cast iron is so expensive to replace."
Richard Truman, a spokesperson for the British Metals Recycling Association said that because metals were globally traded commodities, they were an attractive prospect for thieves.
"When the global commodity price for them goes up, then in the thieves' mind, the risk becomes worthwhile," he said.
"For the last couple of years, not just cast iron, but all metal prices have been going up and up and up.
"They peaked at the start of the year, they've dropped back a little bit since then, but they are still very high, so in the minds of the thief, these crimes, relatively small crimes as they might see it, are worthwhile, but often they are putting lives at risk."