Three As 'not enough' for student Natasha Brannan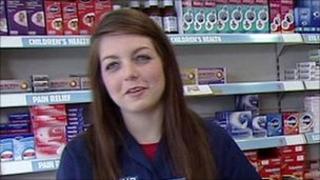 BBC Newsline has been following Natasha Brannan's progress over a most turbulent time in education.
In 2003 we watched her prepare for her 11-plus, then we filmed her sitting the exam.
In February 2004, she got the result she wanted and went to a grammar school.
She worked hard, and her childhood ambition to train as a doctor has not faded. But now her A-level results have arrived and she has suffered a setback.
Even though she scored three A grades, she has not been accepted to study medicine at Queen's University.
"I am disappointed because my friends are off to university this year and my best friend is starting medicine.
"I still really want to be a doctor, I said that when I was eight years old, and I am still determined," she said.
Natasha has been working part-time in a pharmacist's shop and has now decided to make the best of an enforced gap year.
She feels her work experience will give her an advantage when she applies again to university.
She is resigned to a year out and has even taken a job as a dispensing assistant in the pharmacy so that she can save for university next year.
"I think I have a better chance of getting into medicine next year," she said. "OK, my friends will have moved on, but I will make new friends and it's only delaying my course by one year."