Stolen birds were 'therapy' for special needs children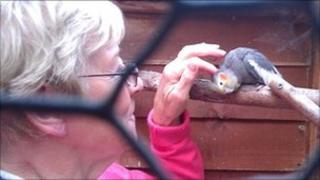 Thieves have broken into an aviary in north Belfast and stolen birds that were used to entertain children with special needs.
The two colourful cockatiels, which were more than 20 years old, were kept by Anne Wright, 76, a retired classroom assistant at Glenveagh Special School in the south of the city.
"This was one of the therapies we used. We got a very good response from children with severe disabilities," she said.
"Their reaction to the birds was amazing. We got eye contact and maybe a wee smile."
At the beginning of 2011 Anne kept eight cockatiels in her aviary at the back of her home just off the Cavehill Road.
The birds had become so relaxed in their home that they were not phased by strangers or even the sight of Anne's pet cats.
Companions snatched
It is a different story now though and it is clear to see that the birds left are a little less comfortable after the ordeal of watching their companions snatched.
They are quieter and tend to hide more when a visitor comes by. They are not the only ones affected.
Anne has not slept properly since the birds were stolen and the pensioner has had to put extra security around her back garden.
"I put up barbed wire fencing for my security and their security, I thought it was important," she said.
"If they had come and taken the old television or jewellery, those are things you can replace.
"You can never replace these birds, and it's the heartache of knowing how frightened they were."
This is not the first time that Anne's aviary has been targeted.
Earlier this year two other birds were stolen and Anne believes the same people may be responsible.
"To have taken wire cutters to cut the locks off to get in, they obviously have been here before because they knew that they had to cut their way in," she added.
"They may get £20 or £30 if they sell them but those birds were so valuable to me that they were worth an awful lot more."