Online sectarian abuse for young Rangers player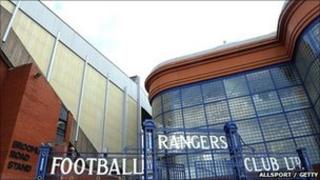 Police in Glasgow are investigating allegations of online threats made against a County Londonderry teenager who recently signed for Rangers.
Aaron McGregor, a 17-year-old Catholic from Limavady, joined the Glasgow club earlier this year.
Sectarian and threatening remarks were posted on an "unofficial" Rangers Media website after the former Gaelic footballer signed a two-year deal.
The comments echo online threats made against Celtic manager Neil Lennon.
One post reads: "Can't wait for him to receive bombs and bullets."
Another was written by someone calling themselves "Lisburn Rangers" and appeared to display a UDA badge calling Pope Benedict the "anti-christ".
Rangers Football Club stressed that the comments were posted on an "unofficial" website not directly linked to the club.
Strathclyde Police said they are taking the threats seriously.
A spokeswoman said: "Each allegation of abuse on the internet is looked into individually and action deemed appropriate to the comment is taken by officers."
Earlier in August, a 24-year-old man appeared in court charged with creating a website where sectarian messages about the Celtic manager were posted.
Two other men are due to face trial in Scotland charged with sending suspected bombs in the post to Neil Lennon and two prominent Celtic fans.