Bail refused in Northern Ireland sex trafficking case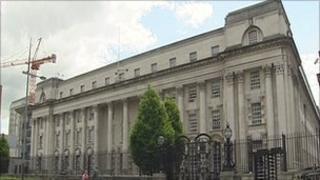 Police went undercover in an operation against the trafficking of eastern European women into the sex trade in NI, the High Court has heard.
The method used was disclosed as bail was refused to Bronislav Rybensky, 29, accused of being head of a crime gang behind a cross-border vice racket.
The Czech national, of King Street, Belfast, faces charges of sexual exploitation and brothel-keeping.
He was arrested last week in police raids following a three-month probe.
Another man and woman also face charges in connection with the inquiry, while six alleged victims were rescued.
Referring to Mr Rybensky, Crown counsel Nicola Auret told the court: "Police can prove that a £20 note recovered from cash in his apartment was one passed to a prostituted female.
"That was by means of an undercover officer who went there and asked her about her services. Money was passed and then he made his excuses and left."
'Placed in brothels'
She added that it was the prosecution case that Mr Rybensky was "the main man" in an organised crime gang who trafficked women across Europe.
"They were brought into Northern Ireland and placed in brothels in the Belfast area," Ms Auret said.
"These females often believed they were travelling to Belfast for modelling work."
It was claimed that Mr Rybensky advertised their services on an escort website, and took up to 80% of their earnings from sessions costing £100 for 30 minutes or £160 for an hour.
According to the prosecution, four alleged victims were rescued during search operations in May and June.
One of them claimed she was told she would not be allowed to return home to the Czech Republic unless she worked as a prostitute, Ms Auret said.
Mr Rybensky is also alleged to have grabbed a woman by the hair and forced her, fully clothed, into a cold shower.
No proper explanation
Three women were said to have previously been in the porn industry making movies but still claimed to have been exploited.
As part of the case against Mr Rybensky, the court was told that more than 70 flights costing in excess of £14,000, and over 140 internet advertisements at a cost of £11,000 were paid for out of his bank account.
The court also heard that £32,000 in cash was lodged in his account without a proper explanation, placards allegedly included in advertisement photographs of the women were found in his apartment and mobile phones, more than 30 SIM cards and escort advertising documentation were also seized.
Neil Rafferty, defending, disputed the Crown assessment of the case and claimed his client only helped willing sex workers get a better rate for their services.
He said: "When one hears trafficking for sexual exploitation and organised crime gangs one immediately has a mental picture of people in containers being smuggled in.
"This is a case where this man has facilitated people coming to this country who have worked in the sex trade."
Mr Rafferty said Mr Rybensky met the women through internet chat rooms and told them they would have a greater earning capacity as prostitutes in Northern Ireland.
He claimed the alleged victims worked in the sex industry in the Czech Republic and sent over glamour photos to his client who booked their flights and arranged the online advertisements.
"All came here effectively as economic migrants... for the additional earnings in this country."
However, Mr Justice Treacy rejected defence submissions that the alleged operation lacked sophistication.
Refusing bail due to fears of re-offending, the judge said: "It appears from the facts outlined to me that he (Rybensky) is alleged to have exercised control, violence and engaged in deception."