RUC murders tribunal told helicopters heard near scene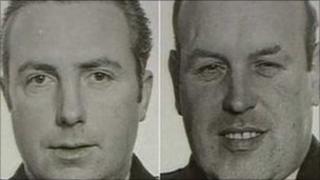 A tribunal has been told of British army helicopter activity on the County Armagh border the afternoon two senior RUC officers were murdered by the IRA.
Harry Breen and Bob Buchanan died in an IRA ambush at a 'blind spot' on the Edenappa Road, near Jonesboro in County Armagh on 20 March 1989.
The Smithwick Tribunal is investigating allegations of Garda collusion in the murders.
The officers were killed shortly after leaving Dundalk Garda Station.
On Thursday, a civilian witness recalled seeing two British army helicopters while driving to a petrol station not far from where the ambush occurred.
Only minutes later on leaving the petrol station, Denis Dullaghan came across the scene of the murders.
"I do have a vague recollection of also hearing helicopters in the area," he said.
The tribunal has previously heard criticism that Superintendent Buchanan often drove to police stations in the Republic in his own car with the same number plates on it.
On Thursday afternoon senior counsel for the tribunal, Mary Laverty, questioned whether Supt Bob Buchanan was being "escorted on this occasion".
Concerns about officer
Several retired Irish police witnesses have been recalled to give evidence to the tribunal in Dublin.
Retired Garda detective Tom Connolly, who served in Dundalk at the time of the murders, also gave evidence on Thursday.
He had previously admitted that there were concerns about an officer in the station and inadvertently identified Owen Corrigan, one of the three former gardai under examination by the tribunal.
Mr Connolly stood over previous remarks he had made about there being unease in the station about an individual working there but when pressed, he conceded he had no evidence that former Detective Sergeant Owen Corrigan had ever colluded with the IRA.
In June, retired RUC detective Ch Insp Alan Mains, told the tribunal that Ch Supt Breen was concerned that Owen Corrigan was "in the pay of" leading republican Thomas 'Slab' Murphy.
At the time, council for Mr Corrigan said his client had spent 31 years fighting against the brutality and intimidation of the IRA, that he was the garda chosen to carry out the extradition of well-known republican Dominic McGlinchey in 1984, and that he and his wife had been subjected to a vicious campaign of intimidation in Dundalk and Drogheda by the IRA.
Mr Corrigan's lawyer said his client's name was first mentioned in public in connection with IRA collusion eleven-and-a-half years after the murder of the two officers, when he was named by Jeffrey Donaldson in the House of Commons.
The tribunal has heard from about 70 witnesses in public to date, including four statements that were read into the record.