Mothers and daughters reflect on the Holy Cross protest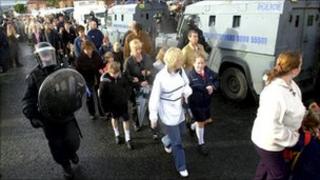 It is ten years since the Holy Cross protest in north Belfast made headlines around the world.
Many will remember the images of terrified school girls having to run the gauntlet of a sectarian dispute between lines of armoured police officers - in order to get to their primary school.
A decade on, a BBC Northern Ireland documentary, At the Crossroads goes back to Ardoyne to meet four of the mothers and daughters who were caught up in the events of that time.
BBC News Online spoke to Elaine Burns, one of the mothers who features in the programme.
She remembers the events "very well, as if it was yesterday".
"It was the 19th of June and it was 2001," she said.
"I was in my place of work here in the Ardoyne, it was about 2:30 and I received a phone call to say 'hurry up, the children are being blockaded into the school and there's trouble on the Ardoyne Road'."
'Mayhem'
She left work immediately and ran up to the top of Alliance Avenue to collect her daughter from Holy Cross Primary School.
She described the scene close to the school as "absolute mayhem".
"It was hand-to-hand fighting, people battering each other.
"I was trying to push my way through to get up to the school and we were basically pushed back down the road.
"Very quickly the police were on the scene and divided the parents away from the large gang of people that had gathered around them."
Elaine said not knowing where her child was was a very "frightening experience".
While she was still waiting to get into the school she heard that a relative had collected Leona and that she was safe.
"When I was reunited with her she was in a state of shock," she said.
"She couldn't understand what had happened. For a lot of those wee girls, they actually thought, what did we do?
"It was the first year she was able to go up and down to school on her own, she thought she was big girl."
From the first day of the protest until the end of the summer term, the road was closed off for security reasons so parents were left with two choices.
"We could either keep our children out of school or take them up the Crumlin Road and go through a boy's college," she said.
Dialogue
"They had to cut out a hole in the railing to let the children gain access to Holy Cross School."
During the summer break, nationalist community groups, politicians and parents "tried desperately" to engage with loyalists in the Glenbryn community to try and find a solution.
Loyalists claimed the trouble had begun after men putting up flags were attacked, but this was disputed by nationalists.
Unfortunately the stalemate was unresolved when the new term started in September.
"The children had to go back to school," said Elaine.
"Obviously the eyes of the world saw what happened on those first days of school term where we were met with the barrage of hundreds of loyalists, shouting sectarian abuse, spitting, we had bombs thrown at the children.
"It was horrendous for three months.
"From September through to mid-November it went on day-in and day-out but those first few days, it was just like a scene out a war film when you look back on it."
Elaine's daughter Leona had started P4 in September.
"I also had a younger daughter, Niamh," she said.
"Unfortunately it was her first day at the big school going into P1 on the Wednesday, which was the day they threw the bomb so my four-year-old had really started school with a bang, where loyalists had thrown a bomb and tried to kill young girls."
As a mother she tried to shield her young daughters from the ugly reality of the protest.
"I actually had spoke to both my daughters before leaving for school," she said.
"I said to my younger daughter, there would be a lot of noise, whistles, horns and people shouting.
Dilemma
"My other daughter, Leona, who had previously been at the school, she was a lot more anxious and aware, she was frightened."
Elaine said as a parent there came a point when she questioned whether or not she should take them to school.
It was mid-November before there was a breakthrough.
"It was a Saturday night and the word came through that the protest was being suspended," she said.
"The police were still very much visible and had a static presence on the road for at least a year after that."
Thankfully neither of Elaine's children have suffered any lasting long-term effects.
"They were young and very resilient and looking after their emotional well-being was a big priority," she said.
"I'm just grateful that both my daughters, especially Leona, has grown into a lovely young woman.
"She is 18 year's of age and is studying her A-levels.
She is a very confident young person and has adjusted well to life and has a lot of friends and loves music.
"Her prospects are looking really good."
Reflecting on the events of 10 years ago, Elaine said she was just glad that no lives had been lost.
"I know in the north of Ireland we have had some horrible atrocities but children were never the focus within the troubles," she said.
Scars
"They were never the intended targets. It was frightening that people were focusing on venting hatred and sectarianism on wee young girls.
"It was a very, very volatile time even for the wider community within the area that we lived in.
"Community relations were greatly strained, you were afraid of people taking up arms, and guns back out on the streets.
"We may have some mental and emotional scars but basically we came through it in one piece."
At the Crossroads producer and director Denise O'Connor said: "Northern Ireland has covered much ground since the Holy Cross dispute and so have the girls and mothers of Holy Cross.
"The experiences of these girls - most of them now women - provide insights into the wider changes which have affected Northern Ireland and the directions their lives have taken are often surprising."
At the Crossroads is on BBC One Northern Ireland 5 September at 22:35 BST.