County Antrim man arrested over Ibiza drugs haul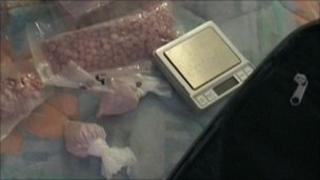 One man believed to be from Northern Ireland and two from the Irish Republic were among 13 people arrested as part of a major drugs haul in Ibiza.
A total of 4,000g of cocaine was seized along with 3,600 ecstasy pills and 5,000g of crystal meth after eight properties were searched.
Also recovered were 69,000 euros, along with some cannabis and anabolic steroids.
It is understood the man from Northern Ireland is 30 and from County Antrim.
The latest drugs haul is part of a wider operation by the Guardia Civil which has seen 73 people arrested and 30 properties searched.
'Large demand'
The Serious Organised Crime Agency (Soca) said the majority of the pills which have been seized are known as Pink Rock Star and are similar to those believed to have poisoned eight people in Ibiza in July.
It said those detained are "members of one of the most active gangs on Ibiza which is the main supplier of cocaine and other designer drugs".
A Soca spokesman said enquiries were carried out on the basis of intelligence obtained by the Guardia Civil after other gangs involved in drug trafficking on the island were dismantled.
It said the "majority of these gangs were British and took advantage of the influx of young people during the summer".
It added that enquiries found that the gang, which is now dismantled, only travelled to Ibiza in summer to "meet the large demand for drugs on the island during this period".
Nine of the other men arrested were British nationals. One of the men was a Polish national.