NI families try to slim with help from television show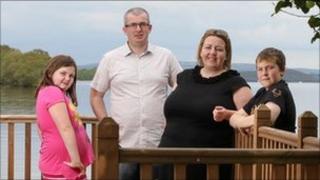 It is pretty scary reading reports that Northern Ireland is the sixth most obese part of the world and that things are getting worse, not better.
But it feels as if we've become immune to the headlines and maybe we've started to accept that being overweight is just a part of modern life.
It's not something to be complacent about though - it really is a killer.
That all sounds very serious and it is.
Many of us want to do something about our weight and health, but just don't know where to start.
In Slim Chance: Fix My Family we've taken families who want to change and helped them to do that.
This isn't a short-term fix.
Rewarding
What we wanted to do was give them the tools to make realistic changes that would work long-term in the context of their everyday lives.
Working with families was something new for us as a production team - challenging, exciting and, as it turns out, very rewarding.
Presenter and nutritionist Amanda Hamilton recognizes that our eating patterns and relationship with food are shaped when we are children, largely by our parents' own habits.
It is proven that children with weight problems are highly likely to grow up as adults with weight problems.
All this, coupled with the fact that childhood obesity is on the increase, made it clear that we should go down the family route with the series.
So we began our search for three families to take part.
Of course weight is an extremely delicate issue and we had to be very sensitive in our approach.
Life-changing
We were careful to stress that while we'd be taking a serious approach to weight-loss, at the same time there would be a focus on fun.
What we were offering was a genuinely life-changing opportunity to work as a family not only on nutrition and fitness, but also, by working with psychologists, to look deeper and find out why we eat what we do.
After casting the net wide we were lucky enough to find our three fantastic families.
It is not easy to admit to being obese, neither is it easy to confront it.
Taking that one step further and deciding to do something about it as part of a TV series is a very brave thing to do.
Cara and Johnny were about to get married when they signed up for the show and just managed to squeeze in the wedding and honeymoon before they came on our island retreat.
Long working hours and odd shift patterns meant Cara and Johnny were struggling to find time to either plan or cook meals - and exercise just wasn't a consideration.
Cara had decided enough was enough - her weight was at a worrying 20 stone and Cara had realized that the weight of her two children, Ryan and Ellie, was also beginning to creep up.
Johnny wasn't particularly overweight but was keen to nip things in the bud and to give his support to the rest of the family.
Nick and Isobel, along with their 10-year-old daughter Rachael had become heavily reliant on takeaways and although keen to exercise were finding plenty of excuses not to.
Like Cara and Johnny, long working days and a lack of time were a major issue.
Isobel needed a bit of persuasion from Nick to take part, but once she had made up her mind she was excited about the potential for change.
In Portrush, Rosie had seen one of our flyers and couldn't believe this opportunity had dropped into her life.
Her 14-year-old daughter Ellen had been wanting to go on a boot camp for some time and Rosie herself was ready to take stock of her life and make some changes.
Trust
This was the ideal chance for them to get away together - and although what was on offer wasn't exactly boot camp, they were keen to give it a go.
The families really threw themselves into everything and placed a lot of trust in us.
From facing foods they'd never seen before to being given the challenge of running a mile, they tried everything.
The adults even gave the colonics a go - though I don't think this will ever figure on their list of highlights from the week.
With the nutritional element of the show covered by Amanda she put together her team of experts to work with the families on other areas.
Clinical Psychologist Dr Raman Kapur came on board to work with the adults, while Dr Rachel Andrew joined the team to work with the children and with the family groups.
Psychology would be a large part of the process and at times would be difficult and emotional.
Personal trainer and fitness expert John Coulter was there to inspire and encourage the families to start working on their fitness and to find realistic and enjoyable ways for the families to continue with exercise as a part of their lives in the future.
Getting into an unhealthy rut can be very gradual, almost imperceptible and frighteningly easy.
Getting out of that rut takes a lot of hard work, courage and patience.
As the series follows the families during their intensive week away and over the next few weeks when they're back at home without the experts on hand, we hope that seeing what they achieve will inspire others to make changes too - I know they've inspired me.
It is all about making the right choices and living life to the full.
Slim Chance: Fix My Family begins on BBC One Northern Ireland 19:30 BST Monday 5 September