Glenavy waste incinerator not formally approved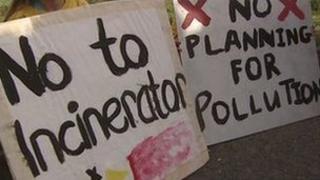 A campaign group has welcomed news that a waste incinerator in County Antrim has yet to secure planning approval.
Last year, the then environment minister Edwin Poots announced he had approved plans for the biomass-fuelled power plant.
However, the Department of Environment has confirmed no planning decision was taken and consultations are continuing.
The Glenavy power plant, to be run by Rose Energy, would be fuelled by poultry bedding and meat and bone meal.
Announcing its approval at the end of last August, Mr Poots said it would will create 300-400 construction jobs and 30 permanent jobs.
It would produce approximately 30 megawatts of electricity as an output of the incineration process.
However, the Communities Against the Lough Neagh Incinerator (CALNI) opposes the incinerator and says almost 7,000 people have objected to it.
The group has said it has been told by the new Environment Minister Alex Attwood that he will fully examine the planning application.
Last month it received a letter from the DoE strategic planning division confirming that no formal planning decision had been taken.
"CALNI looks forward to assisting the department, Minister Attwood and the planning service in the re-evaluation of this project," it said.
A spokesperson for the department said: "As the consultation process on the two planning applications is ongoing the department is not yet in a position to make a recommendation on the way forward.
"When all material planning matters have been fully considered the department will make a recommendation to the minister on whether to proceed by way of a notice of opinion to approve or refuse the application; or by way of a public inquiry."