Matt Baggott to face legal challenge by McGurk families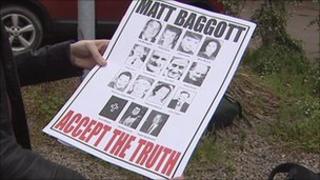 The families of victims of the McGurk's bombing have said they are planning legal action against the Chief Constable Matt Baggott.
The move is over his response to the Police Ombudsman's report into the police investigation of the 1971 UVF attack in which 15 people died.
Mr Baggott has refused to accept the findings of the report which criticised the RUC investigation.
The report said the police had been guilty of investigative bias.
On Thursday, Sinn Fein raised their concerns about the chief constable's response.
The party's Caitriona Ruane asked if he would accept that "the approach taken by the PSNI towards public defence of past policing - investigations into the McGurk's bar bombing and the Loughinisland massacre - has been seriously faulted".
Mr Baggott replied that he "wished he could bring resolution to the families on this and I'm sorry that I can't.
"But in relation to two aspects of that report, I'm afraid the re-analysis I've done still comes back with the fact that some of those findings which were made by the ombudsman, with my test of evidence I can't stand over those and I find them not proven."
'Dismiss authority'
Speaking after a Policing Board meeting on Thursday, the solicitor representing the families, Niall Murphy, outlined the reason why legal action was being considered.
"Specifically with regard to the chief constable's remarks today at the Policing Board, the families have instructed ourselves to consider the reasonableness of what appears to be his decision to unilaterally dismiss the authority of the Police Ombudsman and the report that he has concluded with regards to this investigation," Mr Murphy said.
"We would be firmly of the opinion that he does not have the constitutional statutory basis to attempt to do that."
Two women and three children, including publican John McGurk's wife and 14-year-old daughter, were among those killed in the blast.