Belfast City Council agrees to act on peace walls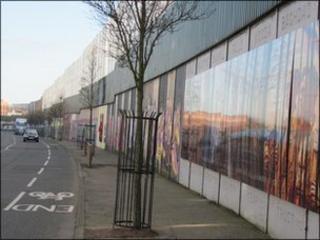 Belfast City Council has agreed to undertake a fresh attempt at tackling the sensitive issue of how to dismantle the city's peace walls.
More than 40 peace lines are dotted across the city separating the two communities at sectarian flash-points.
Alliance representative Tom Ekin proposed the removal of the walls at a council meeting on Thursday.
The proposal stipulated that the move could only be undertaken with the agreement of everyone involved.
Mr Ekin said the city council could bring all the political parties together.
"We can get agreement then we can get agreement with the people in the areas," he said.
"It is very important that the people who live around the areas of the peace walls buy into this, and are confident that they are going to be safe afterwards and that the area is going to be better for the removal of the barriers."